---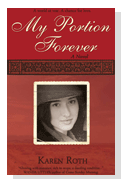 My Portion Forever
It's 1942, and Sana Toledo has run away from her grandparents to what she hopes is freedom: nursing school and the U.S. Army. Joe Vesely, a Czech boy smitten with Sana's exotic looks, signs up to escape the disappointment of losing her. They meet again on a troopship in the Atlantic, poised at the edge of a fight that will either destroy them or fulfill their hearts' desires.
From the United States to Great Britain, through the desert mountains of North Africa to the bloody valley of Kasserine, Sana and Joe cross paths, separate and reconnect . . . and face the cost of losing love again.

Set against the dramatic backdrop of a rarely told true story, My Portion Forever spins a gritty, passionate tale of World War II that sweeps readers into a world of love and war.
Reviews:
Definitely not the usual war story. Romance, terrific characters and great writing make My Portion Forever a wonderful read." David Bowles, author of Spring House and Adam's Daughters.

Now here's a book that has it all: trucks blowing up for guys, romance for women, and inspiration for everyone--not to mention a great story line and excellent writing. What more could we ask for?" Bruce Judisch, author of Ben Amittai: First Call and A Prophet's Tale.

- Posted by Bruce Judisch

---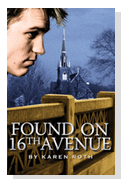 Found on 16th Avenue
A orphan teen from a mysterious past . . . a family struggling through the worst of times . . . and the people of a time and place almost lost in history.
Reviews:
"I'm staggered! It is truly, without exaggeration, one of the best stories I have ever read. I feel connected to every one of the characters. Have I mentioned how much I love John Mark? This story is a huge blessing and a wonderful pick-me-up when I'm discouraged"
-Kelsie McKernie, Georgia


"The plot flows so seamlessly and flawlessly that I was mesmerized. The historical perspective is intensely personal, vibrantly woven into the lives and words of the characters"

-Julia Hanawalt,
Writing and Research Instructor,
Jackson Community College, Michigan
Hello!
I hope you enjoy your time reading
Found on 16th Avenue
and
My Portion Forever
. I love to visit with readers, so email me and we'll share a special friendship across the miles.
Love always,

---