---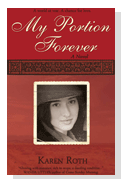 My Portion Forever
It's 1942, and Sana Toledo has run away from an arranged marriage to what she hopes is freedom: nursing school and independence. Joe Vesely, who wanted Sana more than anything else on earth, signed up with the U.S. Army to escape the disappointment of losing her. They meet again on a troopship in the Atlantic, poised at the edge of an epic fight that will either destroy their lives or fulfill their hearts' desires.
From the United States to Great Britain, through the desert mountains of North Africa to the bloody valley of Kasserine, Sana's and Joe's paths cross, separate and reconnect . . . and halfway across the Sahara Sana must face the cost of losing love again, along with her very soul.

Set against the dramatic backdrop of a rarely told true story, My Portion Forever sweeps the reader into a passionate world of love and war.
Reviews:
Definitely not the usual war story. Romance, terrific characters and great writing make My Portion Forever a wonderful read." David Bowles, author of Spring House and Adam's Daughters.

Now here's a book that has it all: trucks blowing up for guys, romance for women, and inspiration for everyone--not to mention a great story line and excellent writing. What more could we ask for?" Bruce Judisch, author of Ben Amittai: First Call and A Prophet's Tale.

- Posted by Bruce Judisch


---